If you are still trying to find a gift for the flower lover or dirt digger in your life, hurry because time has "FLEWN" and Christmas will be here real soon!
The Flower Recipe Book, from the fabulous founders of Studio Choo in San Francisco, is a wonderful book on how to bring nature and beauty into your home.  My daughter Julia gave me this book for Christmas last year and it still makes me smile almost 365 days later!.  I have followed these two artists for awhile; I guarantee you, they will inspire!
Order online or pick this up from Anthropologie,
Also available on 
Amazon.
The top to this vase-jar (found on Ebay, who knew?!) has a built in frog so you simply place your flowers into the squares of the top of the container  Your flowers will have "just stay!" power and will not flop around.  Brilliant concept.
Plus it has that zinc look which I am wild about.  
Speaking of zinc ("antiqued" zinc is best), has an aged crusty look pairs perfectly with a conservative, neat bouquet as well as a wildly fluid handful of field flowers.  
pro tip: take one of these with you as you gather flowers from your garden
to keep the flowers together and hydrated.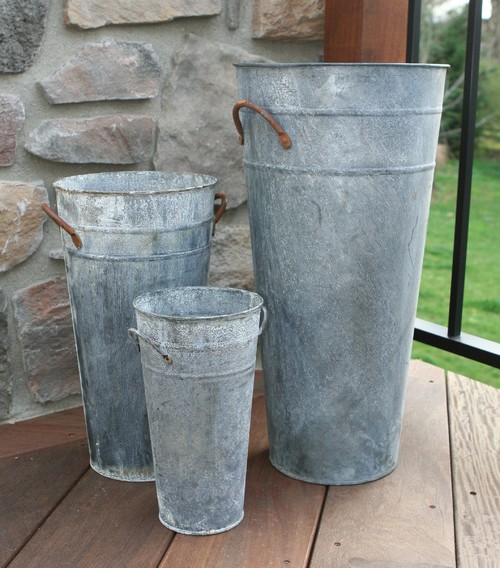 from Houzz
If it comes in Hermes-orange, I'll take two!
That means two "Dramm Hoses" for me please, honey!  
Available at West Elm (currently shipping for free) 
(Guess which one is cheaper?)
The Dramm Hose
at Walmart or West Elm
Not your average trowel.
This little ditty has a stainless steel blade: rust-free for life!
pro tip: colored tape on the handles of your gardening utensils makes it easier 
to find them as your tools get scattered around the yard… I know, brilliant. 
Available at Home Depot
I'm obsessed with this copper vertical planter.
This is a great way to grow herbs on an outside porch off of your
kitchen or indoors if you have a super sunny location.
These low boots are made by
Le Chameau.
They're French.  Obviously.
One for you, one for me.  Next!
A Gift Certificate
from
South Gate Design
 is a thoughtful, personal gift for someone
 who loves a beautiful garden
 but is lacking time (or the green thumb gene).
Drag & print this 
.jpg gift certificate
 for someone special on your list!

Have a joy-filled Christmas!
xo
harriet